Products offered by Uniboost
Since 1955, Union Enterprise has been manufacturing & marketing special pumps for Industrial, Building Services, Water treatment, Marine, Automotive & Chemical Process Industry use, under its Uniboost brand. Uniboost is the right partner for leading companies around the world because it is able to respond quickly and efficiently to the rapidly changing market trends. The wide range of pumps, the proven & well-established experience in the field and the continuous innovation in production & quality improvement areas ensure success to clients.In international pumps market, Uniboost Pump is synonymous with one stop shop, competitive high-tech solutions & a comprehensive techno-commercial assistance
Uni boost Gear Pump Model, which is self priming, foot   mounting type positive displacement rotary gear pump. UGSS having all Stainless Steel (SS-316) in three piece construction with investment cast.Due to three piece construction, it can be easily cleanable and maintainable that is why it is highly used in all kind of food industries.  
These pumps have SS-316 Gear and shaft that are nitrated to give long life and trouble free performance.
The suction and delivery connection are available in 1/2″ to 6″ size.
These pumps can be operated up to pressure of 10 kg/cm² with 13 LPM to 2050 LPM flow capacity and has suction lift of 1m to 5m at rated speed of 1440 RPM. These pumps are designed up to maximum Viscosity of 1,00,000 SSU and maximum temperature up to 200ºc.
Specification:
Material of Construction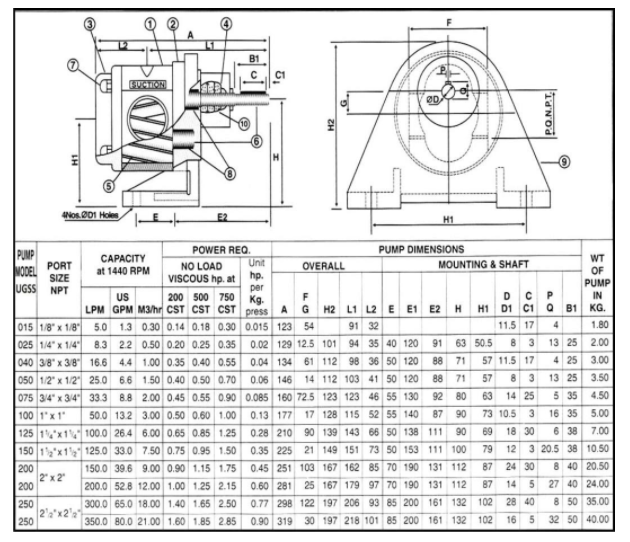 UniBoost Chemical Process Pump is a horizontal single-stage centrifugal pump in stainless steel 316 and polypropylene materials.
Polypropylene Volute Casing – Three piece with full metal back plate support self venting volute casing with companion flange end connection. Volute casing opens towards allows easy withdrawal of the bearing frame without disturbing the pipe work when using a spacer coupling and no realignment is necessary.
Impeller – Semi-opened radial impeller specially designed for low NPSH requirement. Hydraulic balance by back vanes. Reliable fixing of impeller on the shaft by impeller nut and positive locking of impeller nut by means of threaded insert.
Shaft – Single piece heavy duty shaft in full SS 316 material. All critical surface ground to less than 0.8 micron. Threads were shaft screws into impeller are sealed by teflon ™ ring.
Shaft Sleeve – Available with Hastelloy, Alloy 20, Teflon, SS 316 as per liquid specification
Shaft Sealing – Supplied with either packing or mechanical seals in stuffing box. External cooling provided for longer sealife.
Bearing – Inboard bearing is single row, deep groove. Outboard bearing is double row, deep groove angular contact. Bearing is pressed on shaft and free to float axially in frame carries redial load only. Both bearing size are for two year minimum life.
Bearing Frame – Sturdy cast iron construction provides rigid bearing alignment and shaft support.
We serve with purpose and principal.
We offer comprehensive techno-commercial sales & after-sales service for national & internationally renowned brands & products.
We serve with purpose and principal.